The location: Rome, Italy

The look: Sexy and sophisticated glamour, oh and less is definatley more!

The story: H and Claire wander round Rome sitting on landmarks and singing wistfully about lost love, Claire tries to keep her modesty despite the fact that she's left the house wearing just a scarf(she'll catch her death or get a chill if she's not carefull!) Lisa, Lee and Faye also stare sexily into the camera as they ooh and ahh their way through the track.

Rating: 9/10


Faye: Nobody was wearing any clothes in this video! We wanted to make it a really sophisticated ballad, and Kenny Ho our stylist at the time, persuaded us to wear these really saucy outfits which did look pretty sophisticated. We got a lot of wolf whistles walking through the streets to locations and stuff. I don't think you could really miss us! I has some straight hair extensions in which I loved!

Claire: I was wearing the skimpiest top for the video. It was basically just a length of suede sewn at one end and put through my belt loop. It was stuck on with so much toupee tape you wouldn't believe.
I absolutely fell in love with Rome. It was jsut so beautiful. There were so many amazing things there. I was first up to do my bit in the morning and it was really early and raining really hard. I was not pleased! I spent a lot of time hiding in the van!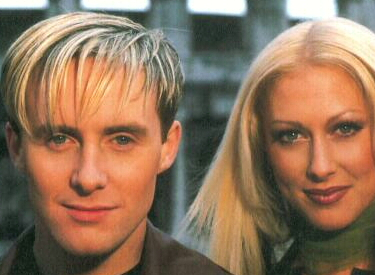 H: This was a duet between Claire and I which was lovely. It's very different to what we usually do and was filmed in black and white which I thought fitted brilliantly with the romance of the song.

Lee: I see When I Said Goodbye as a step on from Heartbeat, really. Heartbeat was the only ballad we'd released before this and this kind of took over from it. It was about lost love and kissing and making up.

Lisa: I thought the song was lovely. We hadn't done a ballad for a while and people seem to respond really well to it when we do it live. I remember hugging Claire when we were filming the video to keep warm because we were both so cold.