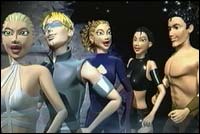 The location: A creepy castle in the middle of a field.

The look: The 'real' STEPS go for glam, but things go a bit pear shaped when they turn into dodgy looking computer/cartoon versions of themselves.

The story:
The 'real' STEPS are exploring a creepy castle in the middle of nowhere and warbling about how their loved one must prove they've changed if they want to make a go of their love, when they stumble upon a mirror! Not very interesting you might think, but this is a STEPS video and a STEPS Christmas video at that so naturally the mirror is magical, loads of great stunt double action as STEPS just about manage to jump through the magic mirror - then shock horror!- STEPS begin to turn into strange distorted cartoon versions of themselves they then act out scenes reminiscent to something that you'd find in a computer action game, in fact the Lisa cartoon is basically just Lara Croft. H, Lisa, Faye and Lee battle to save Claire (whose alter ego cartoon has to be the worst resemblence to her since someone said David Beckham and Rolf Harris looked like twins). The video has nothing to do with the song, well I suppose it does really - they're all action heroes, and actions speak louder than words, and words are not enough... Do you follow my drift?... Thought not!

Rating: 8/10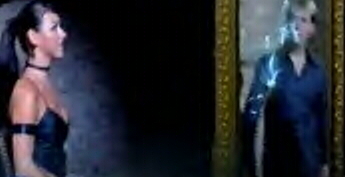 H: We decided to make this video a bit different. That's why we chose to do it with the computer graphics of ourselves, plus we could mess round with them and make them look better than we do in real life!

Faye: This is a great song and it's given us the chance to have a bit of a rest cos we get to sing it sitting down.

Lee: We've gone for the action hero look again, but this time it takes on a new dimension.