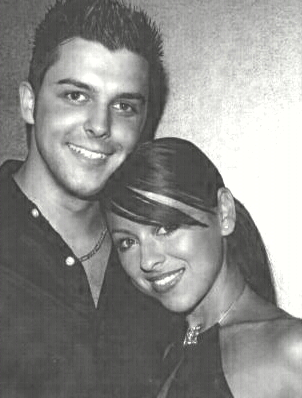 She may be the sexiest and most fanciable woman on planet pop, but Lisa Scott-Lee's heart belongs well and truly to her fiance, Hear'Say singer, Johnny Shentall.

Lisa and Johnny - The Facts:

Lisa first met Johnny when he was a dancer for her old band STEPS on their Step One theatre tour, back then he was known as plain old John Shentall.

Lisa says that she knew as soon as she saw him that he was the man for her.

Johnny is Lisa's toyboy at 23 he's 3 years younger than the sexy star.

Johnny proposed to Lisa on Valentines Day 2001 on a boat during a cruise of the River Thames in London. Lisa was so happy that she burst into tears and said YES! immediately.

Despite their engagement both Johnny and Lisa say that the have no immediate plans to get married because they are both so busy with work and Lisa reckons they're still too young.


Johnny - The Facts:

Full Name: John George Shentall.

Nick Name: My mates call me Beefcake.

Age: 23

Star Sign: Virgo.

What's under your bed?
I've got drawers under my bed, so everything's in order. There's no junk under my bed!

How would you fill in a lonely hearts ad?
Out going and loyal guy looking for quite an ambitious lady.

Ideal Woman: Jennifer Lopez.

Who would you be on Stars In Their Eyes?
Someone like Robbie cos he's a real entertainer.

What makes your heart go boom?
Someone quite attractive I can sit and talk to! I like petite girls really, or someone like Jennifer Lopez!

Where's home?
Doncaster, but I've been down here for about four or five years, 'cause I went to stage school in Essex.
Lisa and Johnny - The Love Story:
Johnny Shentall has hit the headlines since joining Hear'Say, but it's offstage that he is happiest - with ex-Steps star Lisa Scott- Lee, as CAROLINE BARRETT reports HEAR'SAY'S new boy Johnny Shentall never had a serious girlfriend until he met ex-Steps star Lisa Scott-Lee. The 23-year-old hunk, who beat off 5,000 hopefuls for a place in the Popstars band, was so determined to make his name as a performer that work was more important than romance. But all that changed when he met stunning singer Lisa three years ago - and fell head-over-heels in love. When he took her to his home town of Doncaster, S Yorks to introduce her to his family and mates, everyone was bowled over by the change in the lad who had lived for dancing. "It was love at first sight,"grins Johnny's best friend, Victor Heath. "Normally he would do all the usual laddish things with us, but his dance routines and competitions would come first. Then he came down to London to study dance and met Lisa. It was love!" Victor, 33, from Bentley, remembers Johnny being the Billy Elliott of Doncaster, ignoring jeers and taunts to be the only boy attending classes at the local dancing school "He chose a career that many men would look on as sissy, but he always loved dancing," says Victor. "He got ridiculed, but the insults only strengthened him." Those dancing classes, which Johnny took from the age of six, paid off when he made it to the finals of an audition for Steps. They were looking for dancers for their first-ever tour and as soon as the cheeky guy with the spiky hair appeared, Lisa knew he was something special. Lisa, 26, says: "I was there with the girls, Claire and Faye, and Johnny walked in. I immediately said, `He's got the job'." The pair, who now live in Windsor, had eyes only for each other from that minute. "At the end of the tour, we didn't want to say goodbye, so we never did," says Lisa. Johnny, 23, says: "I thought Lisa was absolutely gorgeous when we first met. It was definitely love at first sight." Johnny proposed on Valentine's Day last year while the couple were on a dinner and dance cruise up and down the Thames. "There was a room full of people having their dinners and Johnny called me over to sit on his knee," recalls Lisa. "He started saying lovely things, and I said: `If you're doing what I think you're doing, you should be on your knee.' "So he got down on one knee in front of the whole restaurant and pulled out this beautiful ring and asked me to marry him. I cried for about five minutes. "I didn't even speak because I was so overwhelmed and the ring was so beautiful." The happy couple called their families to break the news, then told their mates in Steps. Lisa says: "We told the band after our families. The guys were wonderful. Faye's engaged so she got straight on the phone to Jasper, her fiance. He came down to meet us with the biggest bunch of flowers I've ever seen. It was quite emotional and I'm sure Claire had a little tear in her eye." In the frantic world of pop, the pair still manage to keep in touch at all times. Johnny says: "We like to speak on the phone about five times a day. "We understand each other and I know if Lisa has had a bad day she might need a hug when she comes home. It's hard when we spend time apart, but you've got to give each other space." Lisa adds: "I've had long relationships before, but nothing like this. I knew straight away that he was the one for me and I've never thought that before." Johnny, who used to be in the boy band Boom, didn't tell any of his mates back home about dating a singer from a group with 13 top five hits. "He just introduced her as Lisa so we didn't know who she was," says Victor. "They're so compatible, like soul mates. They have a good laugh together and he fancies her rotten. "He's a loyal guy and has always wanted to settle. He's traditional in wanting to support and provide for his partner. He is mature enough to get married." It was Johnny who supported Lisa after the shock split of Steps, which came just after Christmas. Victor recalls: "When everything happened it was hard for her, but she's fine with it now and has no regrets. "Johnny's delighted about joining Hear'Say, but still finds it strange - Lisa has finished with Steps and now he has got his big break so the tables are turned. He feels like the superstar at home now, even though she's got her own plans." Victor is certain that fame will not go to his mate's head. "He's too friendly and down to earth and Lisa will be used to not seeing him much because she was always away herself. "He supported her when she was in Steps and Lisa is now absolutely delighted he's in Hear'Say. It is a real winning set-up."