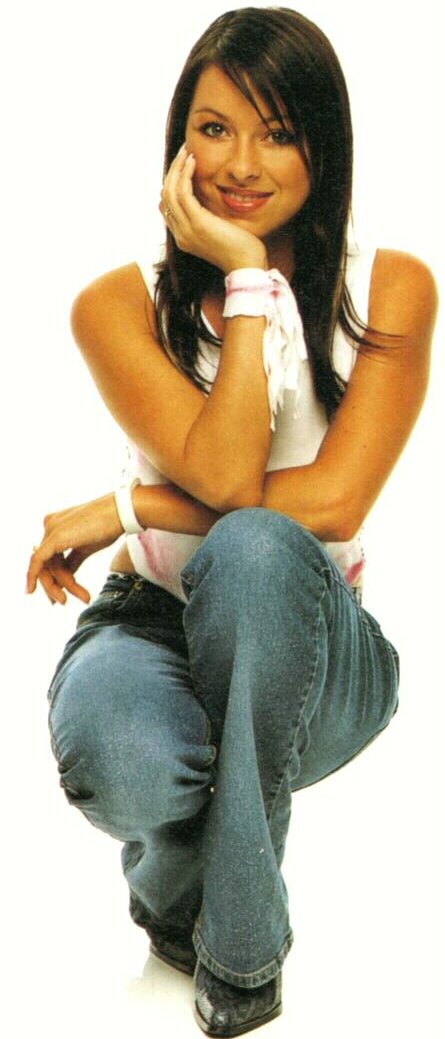 Lisa Scott-Lee was born in St. Asaph, North Wales on November 5th 1975.
She grew up in Rhyl with her Mum Jan, Dad Tony and three younger brothers Anthony, Steve and Andy.
Lisa says " Daddy was my inspiration he always told me, you'll be all right princess, your face will be your fortune!, I used to laugh and say I hoped I'd get recognised for my talent as well!"
Lisa's Dad is a photographer and Lisa often modelled for him, which gave her good practice for being in one of the most photographed groups of the decade!
Lisa's mum was also sure her daughter was destined for great things and even from an early age she'd tell her she'd be rich and famous! "She used to say to me you can do that when you're rich and famous and I'd get dead excited" laughs Lisa.
Lisa says as a child she preferred to play with her brothers toys than her own and says "We shouldn't teach girls to be all pink fluffy and boys to be all macho and hard!"
The naughtiest thing she did as a child was steal a hamster from the zoo! "He looked like he wanted to get away, so I helped him!" laughs Lisa who slipped the little hamster into her pocket and took him home!
She kept her new pet in her doll's house and found herself having to make squeaking noises to cover up for the strange sounds coming from it!
It didn't take her mum long to find it though and when she did she went mad. Lisa says "I think the reason she found out had something to do with the hamster using my dolly's bath as a toilet!"
Other tricks she got up to included knocking crystals off her mums chandelier with tennis balls so she could wear the crystals as jewellery and sticking together a china ornament with chewing gum after she'd broken it, "It must have been a pretty professional job as mum didn't notice for weeks!"
In her teenage years Lisa's ambitions began to grow, she desperately wanted to be on stage and sang and danced at every available opportunity including family weddings and parties!
She also became a beauty queen and won the title of Miss Rhyl and Miss Abergele in separate beauty contests.
At school she excelled in her music, dance and drama classes and got the roles of Marty in Grease and Blousy in Bugsy Malone.
At 16 Lisa decided she wanted her own car and wanted to learn to drive, she knew she'd have to work for the moneyb so she got a job McDonals frying hamburgers. "I was employee of the month and I can still remember the price of the chicken nuggets and chips!"
Lisa raised enough money and took her driving test, which was a little embarrassing, "I'd just come back from Turkey and the driving examiner showed me a photo of a road sign that was a warning for humps in the road and asked me what it meant I said does it mean there are camels in the road! I can't believe he passed me!"
Lisa says "When I first started driving I was terrible! One night I went out with my friend and this man was looking at me and pointing and waving his hands, so I responded in a rather rude manner only for my friend to turn and say 'I think he was warning you to put your lights on Lisa!' I was so embarrassed!"
By the age of 17, Lisa had decided that she wanted to leave Wales and head for London to seek her fame and fortune. She attended the famous Italia Conti stage school, along with top solo singer Louise Nurding.
She went about her daily business there with dance and singing class everyday and lived in a youth hostel as she couldn't afford the accommodation the school laid on.
After she left the school she spotted an advert in The Stage Magazine for a five piece band and decided to ring up and arrange an audition, this was the start of big things for Lisa, becaues the band was STEPS! Lisa spent an amazing five years in STEPS longside her pals, H, Faye, Lee and Claire. STEPS came to an abrupt end on Boxing Day 2001, but the future is bright for the little sparkler from Rhyl and as she launches her solo career we know that the best is yet to come!