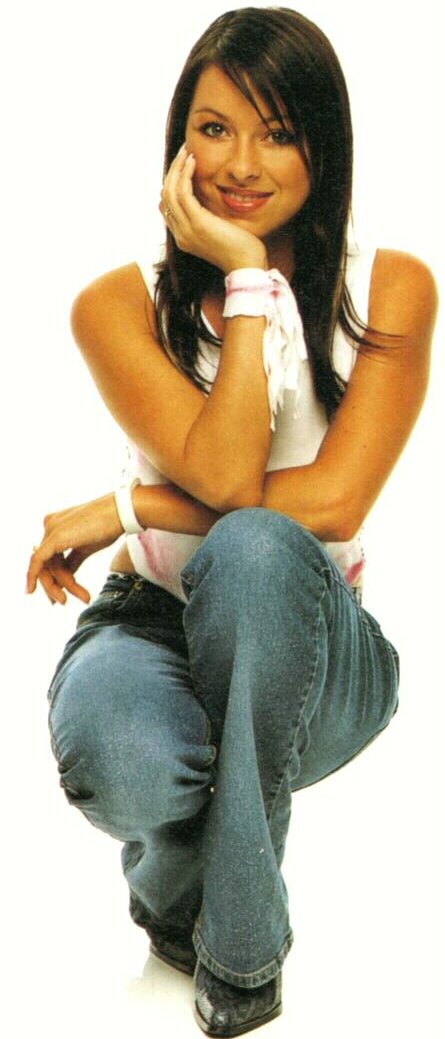 Full Name: Lisa Scott-Lee.

Nicknames: Liza, Lis and Party Steps.

Image: The sexy, saucy party animal of the band.

Age: 26.

Date And Place Of Birth: 5/11/76, North Wales.

Starsign: Scorpio.

Status: Engaged to be married to Johnny Shentall from pop group Hear'Say.

Colour Of Eyes: Green.

Colour Of Hair: Black, brown, red, blonde you name it Lisa has had it!

Family: Mum - Jan, Dad - Tony and younger brothers, Anthony, Steve and Andy.

Pets: No, but I'm buying a kitten and I'm going to call it Kitty.

Distinguishing Marks: A birthmark on my tummy.

Previous Jobs: The worst was a job at McDonalds and the best job I had before Steps was in a bakery because I was allowed to take some cakes home!

Fave STEPS Song: Deeper Shade Of Blue.

Least Fave STEPS Lyric: "Better Best Forgotten" just because there were so many awful jokes and puns about it.

Worst Hairstyle: My perm.

Fave STEPS Member: It's a difficult question, but Claire and I are really good friends now.

Fave Film: Toy Story 2.

Fave Film Star: Brad Pitt.

Fave Body Part: My Tummy.

Fave Part Of A Man: Oh I don't know! There's just so many!!

Cool Or Geek: I was always in the cool gang in school, but at the same time I wasn't afraid to work hard!

What Makes You Laugh: H still manages to make me laugh with the same old jokes!

What Makes You Cry: Being away from my family. I've not been home for six months and that makes me sad.

Ever Broken The Law: No, but I was cautioned for pulling a moonie in Ireland after the MTV Awards!

Who Could You Have In A Showbiz Fight: Someone big like Keith Duffy!

What Would You Ban: School and work on mondays so we could all have long weekends.

Idea Of Happiness: I think it's having success in your career, your love life and when you're happy with yourself. Accepting what you've got.

Greatest Fear: Getting Old.

Motto: Live every day as if it were a Saturday!

What Would You Change About Yourself: My feet! I'd like to have a size 4 instead of a big size 6!

What Would You Be Reincarnated As: A bird, so I could fly and be free.

Hero: My Grandad.

Celeb Crush: Robbie Williams or Kian Egan from Westlife.

Fave Popstar: Geri Halliwell.

Most Embarrassing Moment: I slipped over a smoke machine on stage!

Childhood Ambition: To be famous!

Contents Of Bag: My phone and some hairspray.

Fave TV Show: Eastenders.

Fave Flower: Yellow tulips.

Fave Country To Visit: Australia. Faye and I loved the clubbing!

Weirdest Rumour About You: That H and I were an item!

Can't You Live Without: My family. They made me what I am and I'd be nothing without them.

Biggest Secret: I've always wanted to be Baby in Dirty Dancing, and if they ever did a re-make I'd seriously go up for the part!