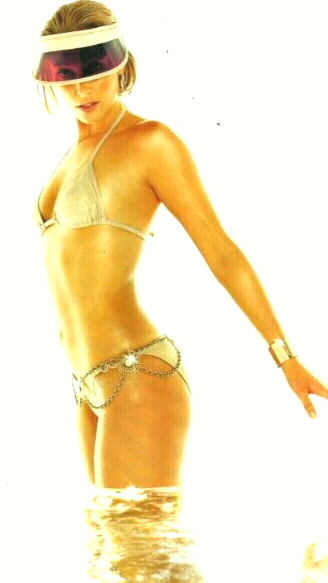 Faye Tozer was born on November 14th 1975 in Northampton, England. She grew up there with her Mum, Dad and older sister Clare.
Faye was always interested in dancing and singing and joined her first dance class at the age six. "I loved my dance classes and really looked forward to going to them" says Faye.
It was at these dance classes that Faye met her close friend Lullabelle, the girls ended up studying at dance college together many years later.
Faye was a star pupil and was highly advanced for her age, picking up all of the dance routines much quicker than her class mates. It came as no surprise to her fellow pupils when, by the age of just 14, Faye was a qualified dance teacher! Faye says she owes a lot to her dance school, The Anne Gales School Of Dance, and even credits them with special thanks on the inside of STEPS debut album Step One!

Despite her angelic looks Faye was a little devil in school and was rarely out of trouble. The first time she got into really bad trouble was when she was caught climbing the walls of the girls toilets, "I had to wash the walls and clean the toilets as punishment, it was horrible!"confesses Faye.
Faye's school reports weren't too good either and always said the same thing of her chatty nature..."Faye talks too much in class and if this continues she will not be allowed to sit next to her friends anymore, we will not warn her again!"

"My favourite time at school was home time!" laughs Faye, "I couldn't wait to get home and do my little song and dance routines for my mum!

As a teenager FAYE idolized 80's popstar Rick Astley, her bedroom was a shrine to the singer and Faye says her weekends were spent in town with her friends desperately hunting for his latest record or a new poster!

Life in the Tozer household became a battle zone as their daughters reached their teens and Faye admits that she and her sister hated each other during their teenage years, "When I was 15, we actually had a physical fight! I punched her in the mouth and she went mad! We are complete opposites and she thought I was a show off and an attention seeker, whilst I thought she was a boring swot!"
Happily sisterly love has returned and Clare couldn't be more proud of her little sister's acievements in STEPS.

FAYE says her taster for parties began at the age of 12 when she began hanging around with a gang of older people who took her to discos and raves,"I'd spend all day getting done up in too much makeup and high heels, then spend half an hour running round trying to snog as many boys I could before my Dad would turn up and drag me home kicking and screaming!" laughs Faye.

In her late teens, whilst waiting for stardom to strike her, Faye got a job cooking pizzas in the cafe at Whipsnade Zoo, but this bored ambitious Faye and pretty soon she decided to give it all up and move to the city.
"I didn't want to move to London and leave my family, I found it an enourmous wrench leaving home, I spent days crying as I thought about whether I should leave or not. In the end I decided I wouldn't get what I wanted by working in a cafe, I needed to follow my dreams and I did, but it was a terrible decision to make"
Luckily for everyone incuding all her fans Faye made the right decision and is now one of the world's best loved pop stars!