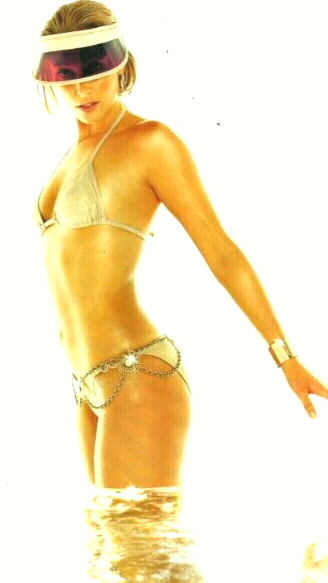 Full Name: Faye Louise Tozer.

Nicknames: Smiley Steps, Twinkle, Fuh Fuh.

Image: The beautiful blonde bombshell of the band.

Age: 26

Date And Place Of Birth: 14/11/75, Northampton.

Status: Engaged to be married to longterm boyfriend Jasper Irn of Dutch band One.

Starsign: Scorpio.

Colour Of Eyes: Bluey Grey.

Colour Of Hair: Bleached Blonde And Proud!

Family: Mum - Dorothy, Dad and older sister Claire.

Pets: Mum and Dad have two dogs called Saxon and Fly.

Distinguishing Marks: Pierced belly button and nipples and one tattoo of a scorpion, but it's somewhere no one will ever see it!

Previous Jobs: Singer at the Hilton Hotel, member for a covers band called Deja Vu, a professional dancer, sandwich maker, silver service waitress, ice cream server, pizza seller - you name it I've done it!

First ever poster: Kylie Minougue wearing a stripy purple jump suit with big frizzy hair - my hair was like that at the time.

Fave Cartoon Character: Chucky from Rugrats. I'm a big Rugrats fan.

Fave catchphrase: Lush it means everythings great and wonderful.

Fave body Part: The Fourth Finger On My Left Hand.

Fave Part Of a Man: Chests - I don't mind if they're hairy or smooth, just as long as they're well formed, toned and huggable.

Cool at School or School Geek: I wasn't cool, but I wasn't geeky either.

Most Snogs In One Night: When I was 12 I had 10 snogs in one night.

What Makes You Cry: When I get attacked directly by the press.

Ever Broken The Law: I wouldn't tell you if I had! I did get a parking ticket once, but I didn't agree with being given it!

Who Could You Have In A Showbiz Fight: Christina Aguilera because she was nasty to Claire!

Greatest Extravagance: Shoes! I bought 36 pairs in one day in the same shop!

Most important thing in a friend: Unconditional love.

Most Treasured Possession: My jewellery, each piece has a special meaning.

What would you be reincarnated as: A diamond solitaire ring!

Celeb Crush: I think the boys from Westlife have great potential!

Contents Of Bag: Lip balm, mascara, purse, phone and sunglasses.

Fave Flower: Sunflowers.

Fave TV Show: Jerry Springer. If you have cabel you can watch it almost 24 hours a day!

Biggest Triumph: Being a pop person! I didn't think I'd ever do it so getting a number one was amazing. I'm so proud.

Weirdest Rumour About Yourself: That I re-enacted the clay scene from the film Ghost with my boyfriend and was boasting about to everyone! It was ridiculous!

Most Embarrassing Moment: My skirt fell down whilst I was on stage luckily I had a pair of shorts on underneath.

Biggest Secret: It used to be that I wasn't a natural blonde and I thought it would be really bad if anyone found out! But now I quite like being plastic haha!

Fave Country Visited: Probably Austrailia, but there's nowhere like home!

Fave STEPS Song: Probably Here And Now or It's The Way You Make Me Feel.

Fave STEPS Video: Definately It's The Way You Make Me Feel, I loved everything about it!

Life After STEPS: I'd love to do something to do with fashion and beauty.